Hi, i am trying to build a intranet for organizations to keep track of their teams and subteams. We call them circles. Each circle shares a set of common properties, has its purpose and domain, members, roles etc
Each of the circles have a relationship to each other. They are nested. So there is a super circle on the highest level, and subcircles, and sub-sub-circles etc.
Each of the circles has a parent circle (all but not the super-circle)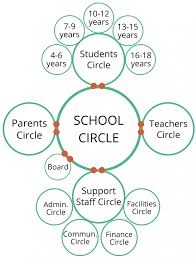 How do i define the relationship in a good way?
I would like users to be able to navigate to each circle, according to the hierarchy of them. How would you display them? In a nested menu?
I am glad for any hints